A Recreation of Hansel and Gretel by Annie Leibovitz.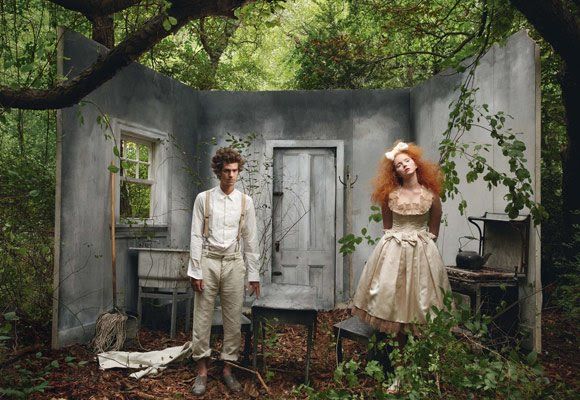 Brother and sister are home alone with nothing to eat. Lily Cole: Dolce & Gabbana cream silk-and-tulle dress. On Garfield: Maison Martin Margiela shirt. Ann Demeulemeester pants.
The two leave and go on the hunt for wild strawberries in the woods. Gretel's white frock contrasts beautifully against the dark foliage (and the tree-men). They're lost. Dior pleated silk-chiffon dress. Fendi platform Mary Janes. Tree-men costumes courtesy of the Metropolitan Opera.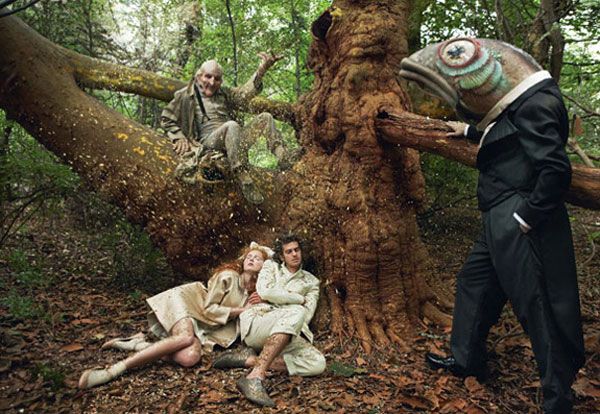 The Sandman (by Sasha Cooke) sprinkles magic dust onto the frightened children, who then fall into a deep golden slumber and dream about a banquet served by a fish maître d'. Balenciaga by Nicolas Ghesquière wool-silk jacket. Chloé flats. Sandman and fish maître d' costumes courtesy of the Metropolitan Opera.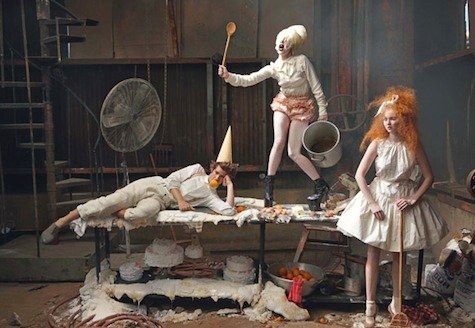 The two discover a house in the forest, only to find it occupied by an old witch (Lady Gaga). Gretel looks sweet enough to eat in a poufy confection. But it's Hansel the evil one wants to fatten up and feast on. On Lady Gaga: Marc Jacobs satin bra, slip silk blouse, and ruffled bloomer shorts. On Cole: Yves Saint Laurent embroidered silk poplin dress. Lady Gaga's wig created by Julien D'Ys.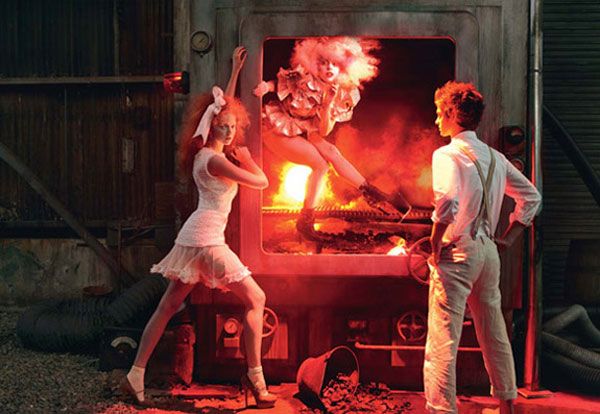 Before the witch can cook Hansel and Gretel—whoosh—they push her into the oven and shut the door. From left: Oscar de la Renta bouclé tweed-and-chiffon dress. Marc Jacobs bonded-lamé belted jacket.
The Witch Is Dead! The children (here, the Junior Choristers of Grace Church in New York City) baked into gingerbread by the hag come back to life. Nina Ricci silk satin pleated dress. Chloé flats.
This editorial was for Vogue December 2009. I love the way Lily Cole and Lady Gaga interact. Lady Gaga was big in 09 but not as big as she is now, i'm not her biggest fan but I think this is brilliant.